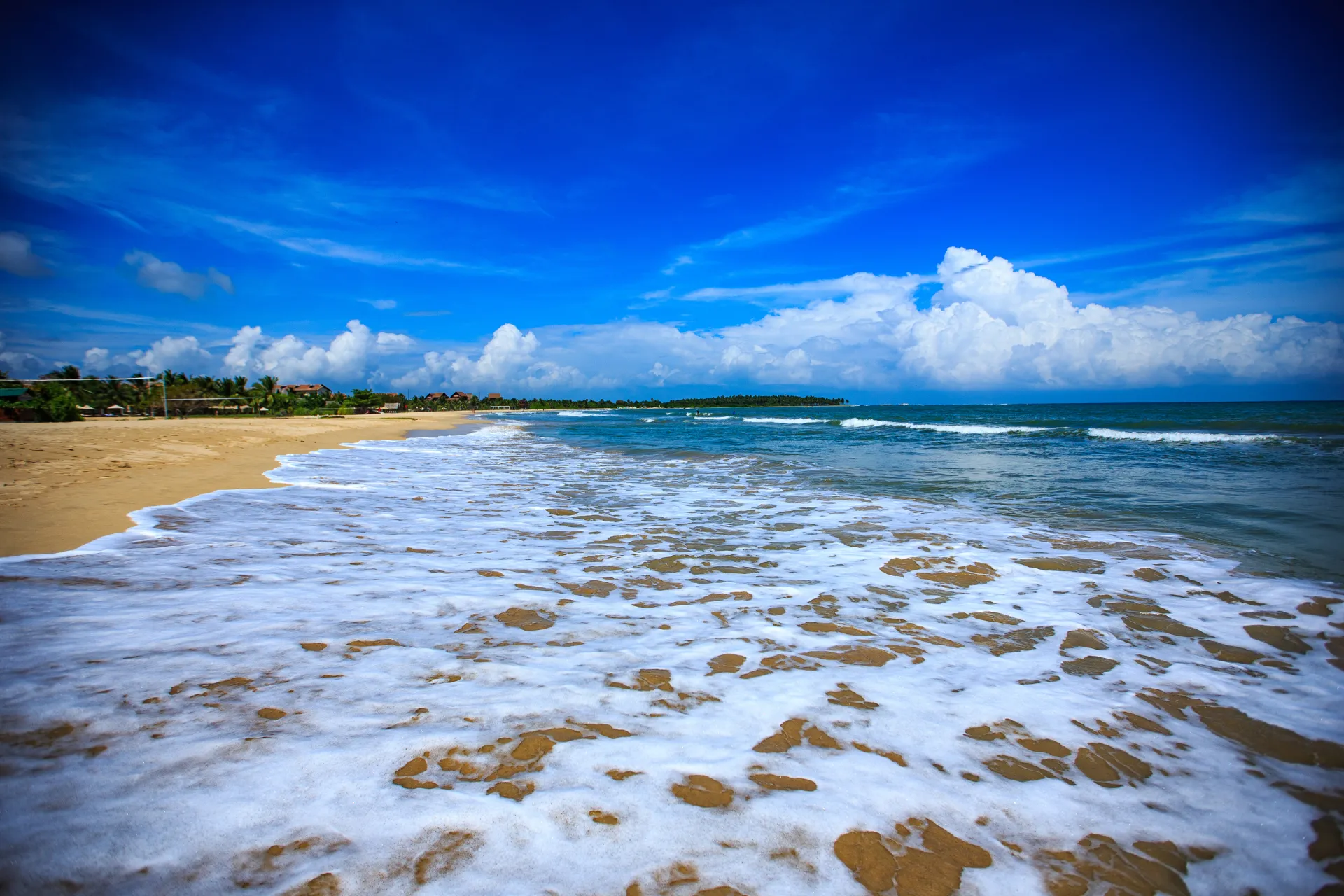 Pasikuda Beach is one of Sri Lanka's most famous beaches. One of the longest shallow reef coastlines in the world, it is known for its golden sands and calm waters. In this travel guide, we'll explore more about this magical destination and all it has to offer.
Overview
Pasikuda Beach is a coastal area situated 35 kilometers northwest of the city of Batticaloa in Sri Lanka. The name Pasikuda historically means "Green Algae Bay" in Tamil. The area was initially a small Tamil community neighboring the nearby hamlet of Kalkudah. While it was a favored tourist spot in the past, the area experienced significant setbacks because of the Indian Ocean tsunami and the Sri Lankan Civil War.
One of the distinguishing features of Pasikuda Beach is its gradual underwater slope. Unlike other beaches where the seafloor might drop off suddenly, here it slopes gently, allowing you to walk quite a distance from the shore while still being in waist-deep water. This makes it particularly appealing for families with children and for those who are less confident in the water.
The sand on Pasikuda Beach is another highlight. It is fine-grained and golden in color, offering a comfortable surface for beach activities or simply relaxing. Unlike some other beaches that may have rocky or pebbly sections, Pasikuda offers an uninterrupted sandy landscape.
The currents here are also weaker compared to other coastal regions in Sri Lanka, making it especially accessible and safe for people of all ages.
Things to Do
Pasikuda Beach offers plenty of activities to keep visitors engaged. Whether you're looking for adventure or relaxation, this destination has something for everyone.
Swimming
One of the main attractions here is swimming. The calm and shallow waters of Pasikuda make it a perfect place for swimmers of any skill level, including beginners and children.
Water Sports
Jet Skiing
For those who seek adventure, jet skiing is an exhilarating option. Rentals and instructors are available on-site to ensure a safe and enjoyable experience.
Windsurfing
The conditions at Pasikuda Beach are also conducive for windsurfing. If you're new to the sport, lessons and equipment rentals are available.
Snorkeling
While Pasikuda Beach is not known as a prime diving location, its clear, shallow waters make it a suitable place for snorkeling. Visitors can explore the small reef close to the shore and observe fish and other marine life.
Kayaking
Another relaxing way to explore the water is by kayaking. Single or double kayaks are available for rent, and the calm water conditions make it a peaceful experience.
Sunbathing
The golden sands of Pasikuda Beach offer an ideal setting for sunbathing. Bring a beach mat or towel, and you can comfortably relax while soaking up the sun.
Beach Volleyball
For those looking to stay active, designated areas for beach volleyball are set up. Equipment is generally provided, and it's an excellent way for friends and families to bond.
Boat Tours
For those who prefer a more leisurely experience, scenic boat tours are available. These trips give you the opportunity to explore nearby islands or simply enjoy the view from the water.
Local Crafts and Shopping
Stalls and kiosks selling local crafts, clothing, and souvenirs are sprinkled throughout the area. These provide an excellent opportunity to pick up a keepsake or gift.
Food and Dining
When it comes to food and dining, Pasikuda Beach has options to satisfy a variety of tastes. Seafood is a highlight, often freshly caught and prepared in both traditional Sri Lankan and international styles. From grilled fish to crab curry, the choices are abundant for seafood lovers. There are also a number of beachside shacks and small eateries that offer quick snacks like samosas, cutlets, and other short eats. These are ideal for those who want to grab a quick bite.
For those who prefer international cuisine, there are several restaurants associated with resorts and hotels that offer a range of options from Western to Asian dishes. Vegan and vegetarian options are also commonly available. Most restaurants offer both indoor and outdoor seating as well.
For refreshment, fresh coconut water and ice cream are always available from vendors along the beach. There are also several bars that serve a selection of alcoholic beverages, including local beers and international brands.
Accommodation
Accommodation options at Pasikuda Beach vary to suit different budgets and preferences. At the higher end, you'll find luxury resorts offering expansive rooms, luxury amenities, and ocean views. These establishments often have their own sections of private beaches, pools, and multiple dining options.
For those looking for mid-range options, boutique hotels and guesthouses are available. Rooms are generally well-maintained, and some of these places have their own restaurants that serve local and international cuisine.
Budget travelers are not left out, as there are several hostels and budget hotels that offer basic amenities at a lower cost. These are often family-run businesses that offer a more personal touch, although the facilities might be more basic compared to higher-end options. Some of these budget options are located a bit further from the beach but are still within walking distance.
Vacation rentals like apartments and villas are also an option. These are often equipped with kitchens and are ideal for longer stays or larger groups.
Advance booking is recommended, especially during peak tourist season.
Location and How to Get There
Pasikuda Beach is situated 35 kilometers northwest of Batticaloa in the Batticaloa District of Sri Lanka. The most direct way to reach Pasikuda is to take a domestic flight to Batticaloa Airport. From Batticaloa Airport, you can take a taxi or use other local transportation options to reach Pasikuda Beach, which is about a 45-minute drive away.
If you're coming from Trincomalee, another coastal city, the journey by road takes about 2 hours. Buses are available for this route, as well as taxis and private car services.
Public buses and tuk-tuks are also common ways to get to Pasikuda from nearby cities. They offer an affordable but less comfortable option compared to taxis or private cars.
Best Time to Visit
The most favorable time to visit Pasikuda Beach is between May and September, when the weather is dry. This period falls within the dry season for Sri Lanka's eastern coast, offering clear skies and minimal rainfall. While the beach is open year-round, the monsoon season from October to January brings more unpredictable weather and rougher sea conditions, which may limit some activities.
Tips and Advice
Safety Measures: Always adhere to safety guidelines, especially when participating in water sports. Life jackets and other safety gear should be used when recommended.
Beach Etiquette: Keep the beach clean by disposing of trash in designated bins. Pasikuda Beach is pristine, and it's everyone's responsibility to keep it that way.
Public Transport: While taxis and private cars are available, consider using public transport like buses or tuk-tuks for shorter distances to experience local life and save money.
Advance Bookings: Especially during peak season, it's advisable to book accommodation and certain activities in advance to avoid disappointment.
Weather: Always check the weather forecast before planning any water-related activities.
Sun Protection: The beach can get quite sunny, particularly during the dry season. Use reef-safe sunscreen to protect your skin while also conserving the marine environment.
Local Cuisine: While seafood is a highlight, don't miss the opportunity to try local Sri Lankan dishes.
Nearby Attractions
Pasikuda Town: Don't miss a visit to Pasikuda Town, which is just a short distance from the beach. The town offers a glimpse into the local culture and is home to the significant Pasikudah Mariamman Temple.
Kalkudah Beach: This beach is right next to Pasikuda and offers a less crowded environment. It's an ideal spot for visitors seeking peace and solitude.
Batticaloa: Situated around 34 kilometers from Pasikuda Beach, this town offers a mix of history and culture.
Batticaloa Lagoon: A prominent feature in the Batticaloa District, this lagoon is popular for boating and fishing. It provides a serene setting that appeals to nature enthusiasts.
Batticaloa Dutch Fort: The Batticaloa Dutch Fort is a historical landmark dating back to colonial times. The fort offers insights into the area's history and provides a vantage point for scenic views.
---
Pasikuda Beach offers a mix of relaxation and adventure. With its range of activities, dining options, and nearby attractions, it provides a complete holiday experience. Whether you are a solo traveler, a couple, or a family, Pasikuda Beach will surely be a memorable and magical experience.