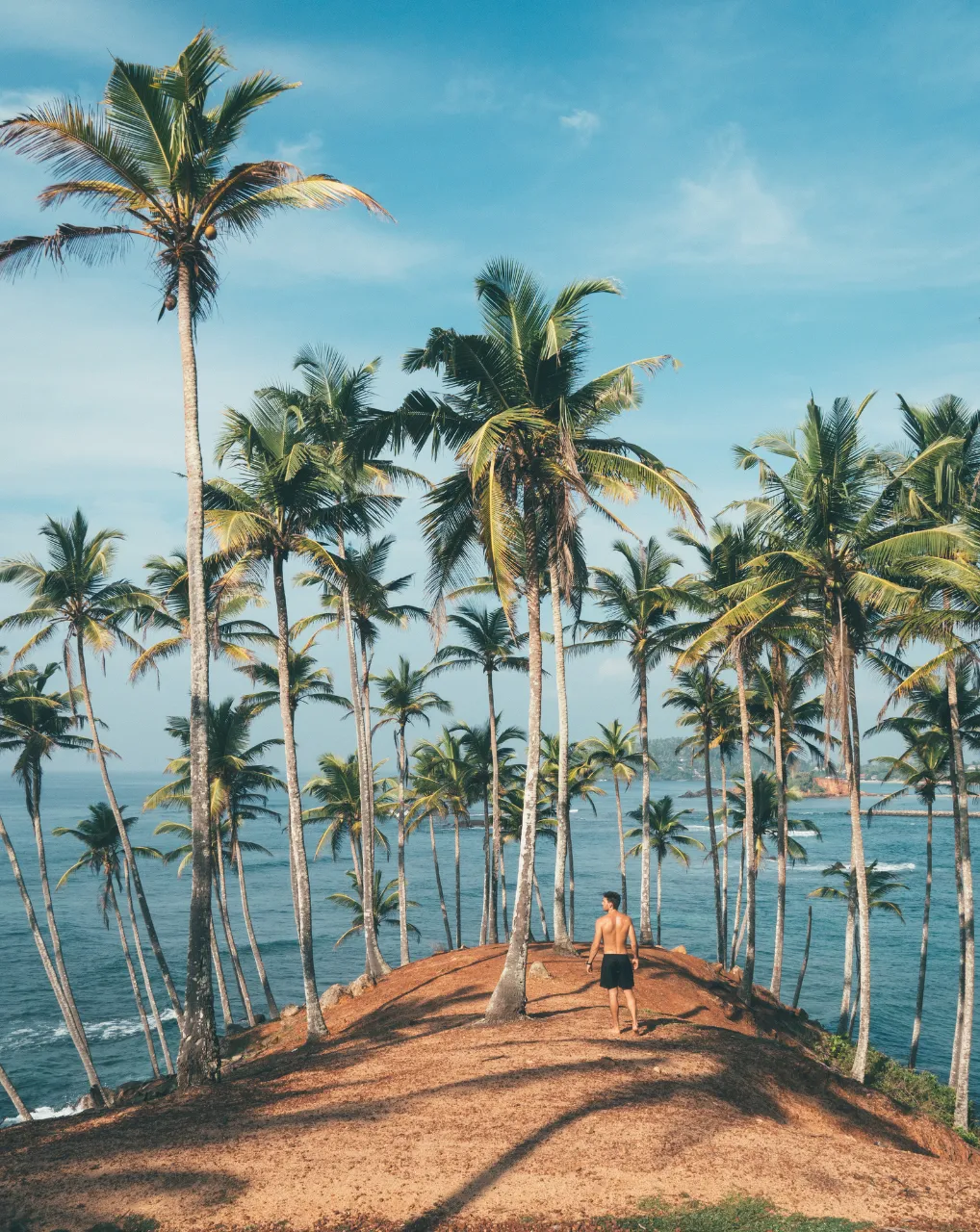 Top 11 things to do in Mirissa


Mirissa is a small coastal town located on the southern coast of Sri Lanka. It is known for its beautiful beaches, delicious seafood, and laid-back atmosphere. Only about an hour's drive from Galle, Mirissa is a tropical destination with plenty of activities and opportunities to relax. This guide will give you our recommendations for the top things to do in this vibrant town.

1. Mirissa Beach:
The top attraction this small town is known for is Mirissa Beach. It is a gorgeous stretch of white sand and blue waters. It's the ideal place for sunbathing, swimming, and taking in breathtaking views. The beach is wide and stretches over a kilometer, so there's plenty of space for everyone. There's also a good selection of beachside restaurants and bars where you can grab a bite or a cold drink while enjoying the view. In addition to sunbathing and swimming, you can also try beach volleyball or engage in beachcombing to find interesting shells and other treasures left behind by the sea.

2. Whale Watching in Mirissa
Mirissa is most well-known for whale watching. This is what truly makes this beach town unique among other Sri Lankan coastal destinations. A whale-watching tour is excellent for getting up close with these magnificent creatures. The best time to go on a tour is between November and April, when the whales are most active in this area. The tours usually start early in the morning, and you'll be taken out to sea on a boat. You are most likely to see blue whales. But sperm whales, orcas, and even dolphins are seen in this area. The tour can take anywhere from 3 to 5 hours. You'll get an extraordinary chance to see these incredible creatures during that time.

3. Surfing in Mirissa:
Another popular activity in Mirissa is surfing. The town is home to some of the best surf spots in Sri Lanka, and there are several surf schools where you can learn to ride the waves. The best time to surf in Mirissa is between November to March, during the dry season. There are surf spots suitable for both beginners and experienced surfers, ensuring everyone can enjoy the thrill of riding the waves.

4. Parrot Rock:
Parrot Rock is a small rock island located on the tranquil blue waters of Mirissa beach that offers one of the most scenic views of the surrounding area. One must cross over from the coast during low tide and climb to the rock's summit to get there. The best time to go here is during the sunset when the sky changes to shades of blue and pink. The painted sky, the tranquil Indian Ocean, and the golden sands of Mirissa Beach will combine to create dream-like views. Even though you probably won't see any parrots, there are a variety of stunning bird species that frequent the area.

5. Coconut Tree Hill
Coconut Tree Hill is a picturesque spot in Mirissa, a must-visit for anyone looking for stunning views and Instagram-worthy photos. The hill is on a private coconut farm, a short walk from Mirissa beach. The hill is covered in coconut trees and is a great place to relax, watch the ocean, and enjoy the sunset. However, it can get busy during the day, and it's recommended to visit in the early morning when fewer people are around. To make the most of your visit, you can bring a picnic and relax among the coconut trees, soaking up the tranquil atmosphere.

6. Secret Beach
Secret Beach is a secluded spot located in Mirissa, Sri Lanka. Closeby to the main Mirissa beach, this spot is much less crowded and offers a peaceful experience. The beach is protected by surrounding rocks that make the waters calm and safe. There are a few bars and restaurants, and you can also rent items like sunbeds and snorkeling gear. It is recommended to visit early in the day to have a chance to have an even more peaceful experience. You might also spot some marine life, such as sea turtles. This hidden gem is perfect for those who want to escape the hustle of the town and enjoy some quiet time in a serene setting.

7. Snorkeling and Scuba Diving:
Mirissa's clear waters and vibrant marine life make it an excellent destination for snorkeling and scuba diving. Several dive centers in the area offer guided tours and courses for all skill levels, from beginners to advanced divers. Explore the underwater world of coral reefs, colorful fish, sea turtles, and even shipwrecks. The best time for underwater adventures is from November to April when the waters are calm, and the visibility is at its best.

8. Visit Unawatuna and Galle:
The small town of Unawatuna and the city of Galle are only a short drive from Mirissa. If you're in Mirissa, make sure you visit these two unique destinations. Unawatuna is a beach town similar to Mirissa, boasting a beautiful stretch of sand and a relaxed atmosphere. Read about the top things to do in Unawatuna.
Galle, Sri Lanka's third-largest city and one of the most iconic tourist destinations in the country, is home to the famous Galle Fort, a UNESCO World Heritage Site. Explore the historic fort and its narrow streets, visit the Dutch Reformed Church, and shop for souvenirs in charming boutiques. Read more about Galle.

9. Do some Yoga and Meditation:
Mirissa is home to several yoga and meditation centers if you want to relax and rejuvenate. You can take classes, go on retreats, and learn about the ancient practices of yoga and meditation. These centers offer a peaceful and serene environment where you can reconnect with your mind and body and find inner peace and balance. From early morning yoga sessions on the beach to more structured classes in dedicated studios, Mirissa offers a variety of options for those seeking mindfulness and relaxation.

10. Experience the Seafood in Mirissa
When it comes to food, Mirissa is a seafood lover's paradise. The town is known for its delicious seafood, which is caught fresh daily and served in a variety of ways. You can try traditional Sri Lankan dishes like fish curry and rice or opt for something international like grilled lobster or calamari. The seafood here is incredibly fresh and flavorful, and you'll be delighted with the quality and variety of options available.

11. Nightlife in Mirissa
This town has a lively nightlife scene, with plenty of places to go dancing and socialize. Whether you're looking for a laid-back spot to enjoy a few drinks with friends or a lively club to dance the night away, you'll find plenty of options to suit your preferences. Beach parties are also a popular choice, where you can dance under the stars with the sand between your toes.
---
Mirissa is a tropical paradise that offers something for everyone. Whether you want to swim, surf the waves, or go on a whale-watching tour, you'll find plenty of things to do in this beautiful coastal town. Remember to indulge in the delicious seafood and take a yoga or meditation class to rejuvenate your mind and body. With its many possibilities for adventure, Mirissa is a destination you'll always remember!