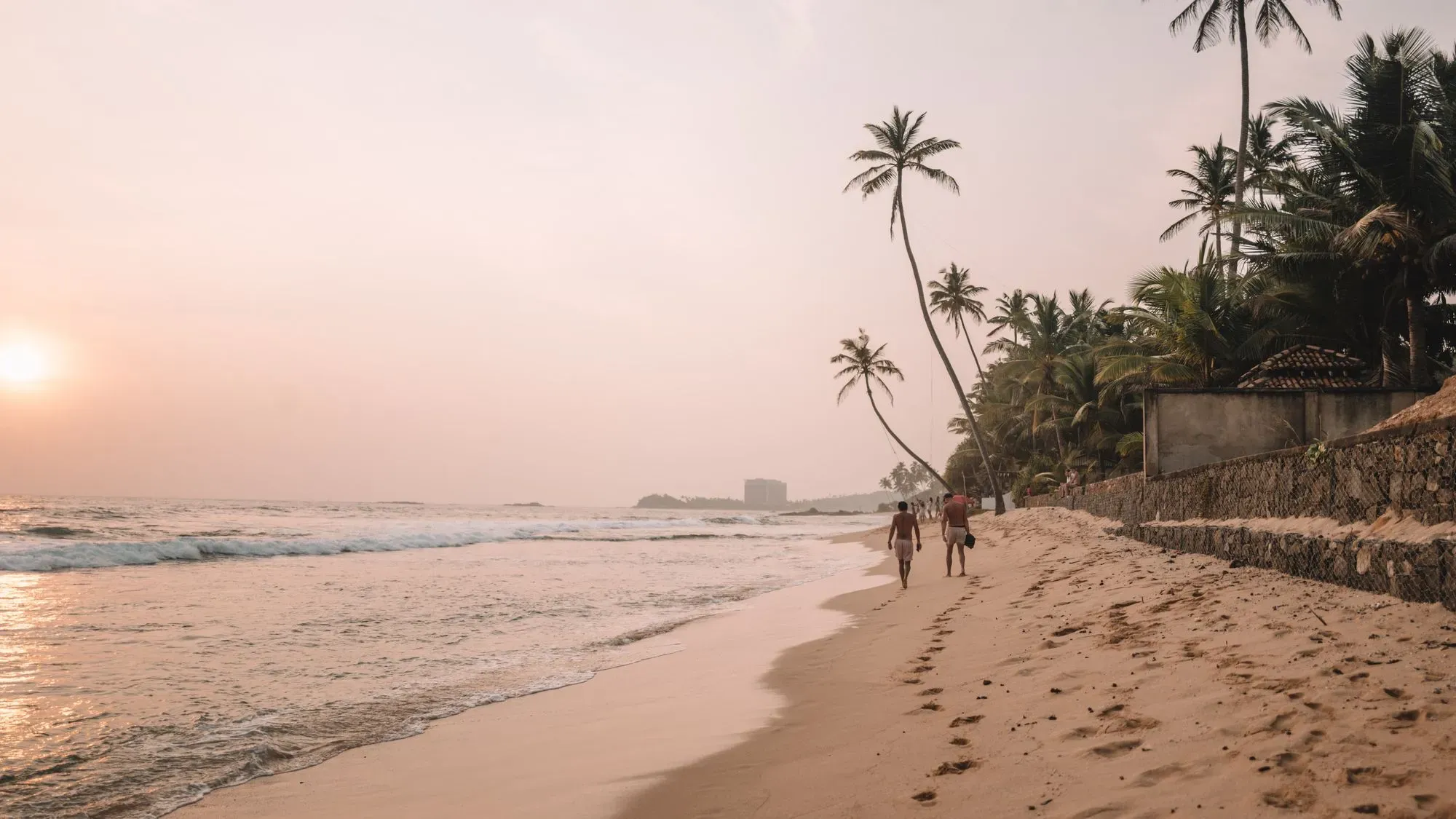 Top 10 things to do in Unawatuna
Unawatuna, located on the southern coast of Sri Lanka, is a beautiful beach town that offers a perfect blend of relaxation, adventure, and exploration. Just a stone's throw away from the historic city of Galle, Unawatuna attracts travelers from around the world with its golden sands, turquoise waters, and culture. Whether you're looking to relax and wind down, explore the local culture, or try a new water sport, Unawatuna is the place for you. Here are the top 10 best things to do during your visit to this enchanting coastal paradise.
10. Swim and sunbathe at Unawatuna beach
Unawatuna beach is a crescent-shaped stretch of sand perfect for swimming and sunbathing. The water is a beautiful turquoise blue, and the waves are gentle, making it an ideal spot to go if you have young kids. The soft golden sands provide a comfortable surface for sunbathing, and the numerous palm trees offer a cooling shade when you need a break from the sun. It's also great for snorkeling and diving, with colorful coral reefs and diverse marine life just a short swim away from the shore. Visitors can also enjoy watersports and various beach activities, such as beach volleyball, snorkeling, and diving. Find out more about Unawatuna Beach.
9. Explore Marine Life and Exciting Water Sports
The sea near Unawatuna is home to a wide variety of colorful marine life, corals, and turtles. So it's an ideal spot for snorkeling and diving. Several local operators offer guided tours and equipment rental, allowing you to explore the underwater world safely and confidently. If you're looking for something more active, Unawatuna beach is also an ideal place for water sports like jet skiing, windsurfing, and stand-up paddleboarding. With several local operators offering rentals and lessons, you'll be able to try them out even with little or no experience. These activities can provide hours of fun and excitement for visitors of all ages.
8. Enjoy the laid-back atmosphere of Unawatuna
Unawatuna is known for its relaxed atmosphere, making it the perfect destination for those looking to unwind and escape the daily grind. There are plenty of beachside restaurants and bars where you can grab a nice drink and watch the sun go down. Visitors can choose from various cuisines, ranging from traditional Sri Lankan dishes to international favorites like pizza and seafood. As the sun sets, the beach transforms into a lively hub of entertainment, with live music, fire shows, and beach parties taking place at several venues along the shoreline. The laid-back atmosphere and friendly locals make Unawatuna a welcoming and enjoyable destination for all visitors.
7. Shop for souvenirs and crafts
The beach is home to several local vendors selling arts and crafts, so be sure to take a stroll down the beach and see what you can find. Visitors can shop for traditional batik sarongs, handcrafted jewelry, and other souvenirs that capture the essence of Sri Lanka. In addition to the beachside stalls, there are several boutique shops and markets in Unawatuna town where you can find unique handicrafts, artwork, and clothing items. These markets are also great places to stock up on traditional Sri Lankan spices, teas, and coffee, which make excellent gifts for friends and family back home.
6. Take a yoga or meditation class
Unawatuna is home to several yoga and meditation centers where you can take classes and learn to relax and rejuvenate. Visitors can choose from classes catering to different levels of experience and preferences, including Hatha, Vinyasa, and Ashtanga yoga. These classes are often conducted outdoors, with the sound of the waves in the background, providing a peaceful and inspiring setting for your practice. Meditation sessions, including guided mindfulness and loving-kindness meditations, are also available at various centers in Unawatuna. Participating in these activities can help you find inner peace and tranquility while connecting with the natural beauty of Unawatuna.
5. See the Japanese Peace Pagoda
The Japanese Peace Pagoda is a Buddhist stupa built by a group of Japanese monks in the 20th century as a symbol of peace and harmony. This pagoda is located on a hill overlooking the beach and offers beautiful panoramic views of the coastline and the surrounding area. The serene atmosphere and gorgeous views make it a popular spot for meditation and quiet contemplation. Visitors can climb the hill to the pagoda and enjoy the magical view. It is especially striking at sunrise or sunset, when the sky is painted in a stunning display of gorgeous colors.
4. Visit the Yatagala Raja Maha Viharaya
The Yatagala Raja Maha Viharaya is a Buddhist temple built on a hillside overlooking the Unawatuna beach. The temple is adorned with ancient murals and statues depicting various scenes from Buddha's life. The serene and spiritual atmosphere of the temple offers you a glimpse into Sri Lanka's rich cultural heritage. As you explore the temple grounds, take a moment to appreciate the stunning views of the surrounding landscape and the ocean beyond. Visiting the temple at sunset offers an unparalleled experience as the sun casts a warm glow over the temple and the coastline below.
3. Visit Dalawella beach near Unawatuna
Located just a short distance from Unawatuna, Dalawella beach is a hidden gem worth a visit. This beautiful beach is less crowded than the main Unawatuna beach, providing a more peaceful and secluded atmosphere. The gentle waves and crystal-clear waters make it a popular spot for swimming and snorkeling. The most popular thing to do on Dalawella beach is the rope swing, which has become a sensation on social media. Swinging out over the ocean with the wind in your hair provides an exhilarating experience and an Instagram-worthy photo opportunity.
2. Visit the Unawatuna Jungle beach
Located a short distance from Unawatuna, Jungle beach is a secluded and unspoiled beach that is perfect for those looking for a more private and natural experience. Surrounded by jungle, this small beach can be reached via a short hike through the forest. Due to its off-the-beaten-path location, Jungle beach is a bit less crowded, allowing you to enjoy the beauty of the beach relatively peacefully.
1. Explore Galle
Galle is just a short drive away from Unawatuna and is home to several historical sites. The most famous of these is the world-renowned Galle Fort. This colonial-era UNESCO World Heritage site is one of Sri Lanka's most iconic destinations. The well-preserved fort offers visitors a fascinating glimpse into Sri Lanka's colonial past, with its cobblestone streets, ancient churches, and charming Dutch-style houses. Galle is also home to several museums showcasing the area's history and culture, including the National Museum of Galle and the Maritime Museum. Exploring the winding streets of Galle is a great way to spend a day soaking in the rich history and atmosphere of this unique city. Read more about the city of Galle.
---
Immerse yourself in the captivating charm of Unawatuna and experience the best that this stunning destination has to offer. With its breathtaking natural beauty, the diverse array of activities, and warm, welcoming atmosphere, Unawatuna is sure to leave a lasting impression. As you create unforgettable memories along its sun-kissed shores, you'll discover why this vibrant beach town is a must-visit destination on any Sri Lankan journey.