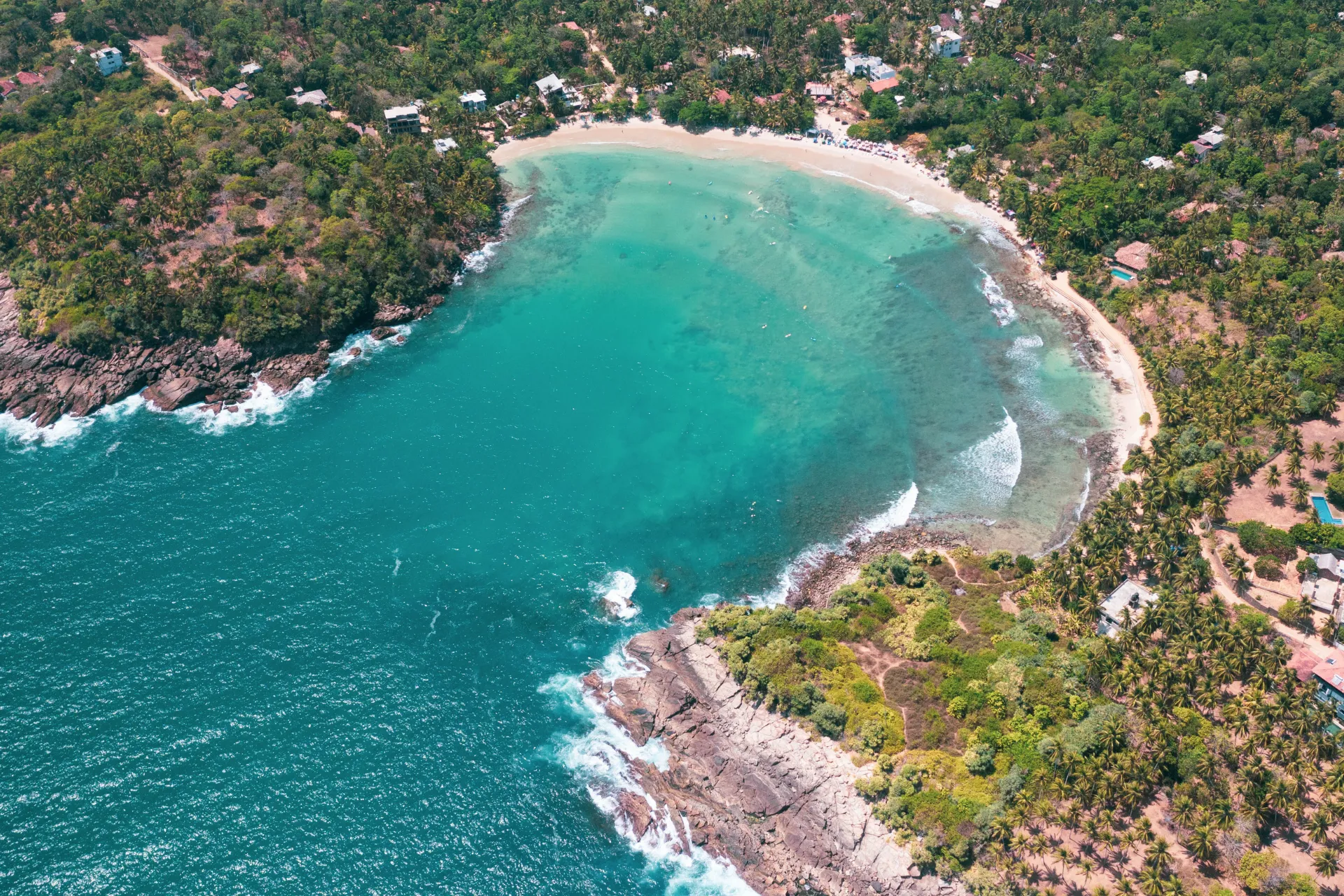 Hiriketiya Beach is a destination that attracts tourists for its beauty, activities, and unique atmosphere. Located in Southern Sri Lanka, it offers an ideal escape for those seeking sun, surf, and relaxation. This travel guide aims to provide all the necessary information to make your visit a memorable one.
About Hiriketiya Beach
Hiriketiya Beach is renowned for its distinctive horseshoe shape, a natural formation that adds an element of seclusion to your beach experience. The inward curve of the coastline creates a more private and intimate atmosphere. This unique shape also offers protection from strong winds and currents, making the waters calmer and more suitable for swimming and water sports. As a result, the beach has become a favorite spot for both novice and experienced surfers.
The sand at Hiriketiya Beach is fine and soft, adding to the comfort of visitors whether they are walking along the shore or lounging on the beach. While it may not be the widest of beaches, the available space is generally adequate for beachgoers to find their own private spot to relax. The beach also features some rocky outcrops, adding texture and interest to the landscape. These areas also act as vantage points for those interested in capturing photographs of the beautiful setting.
Hiriketiya Beach is also known for its clear, turquoise waters, which are often clear enough for snorkeling and other underwater activities. The water quality is generally good, attracting colorful marine life that can be seen without going too far from the shore. The color of the water contrasts beautifully with the sand, providing an almost tropical paradise-like feel.
Surfing in Hiriketiya
Surfing is one of the main attractions that draw people to Hiriketiya Beach. The beach offers a range of waves suitable for both beginners and more experienced surfers, with wave heights generally ranging from 1 to 3 meters. The water depth also varies, providing different surfing conditions for all levels. If you're new to the sport or looking to improve, you can find several instructors offering lessons. Surfboards are readily available for rent, so you can easily find one that fits your level of expertise.
The best time for surfing here is from November to April when the sea conditions are stable and conducive for the sport. However, it's essential to always prioritize safety. Before hitting the waves, make sure to check the current sea conditions and consult with local surfers or instructors if you're unfamiliar with the area.
Other Things to do
Paddleboarding
Paddleboarding at Hiriketiya Beach is an excellent activity for those looking to enjoy the ocean in a more relaxed manner. This water sport is particularly appealing because it requires relatively calm waters, making Hiriketiya an ideal location. It's also a serene way to explore the beach and its immediate surroundings. Paddleboard rentals are available at several locations along the beach, and you can often choose between hourly or daily rates. For beginners, some operators offer short introductory lessons to get you comfortable on the board.
Snorkeling
Snorkeling is another popular water activity at Hiriketiya Beach, especially during the months when the water is at its clearest. The beach has pockets where the marine life is rich, providing an opportunity to see a variety of fish and sometimes even turtles. Snorkeling gear can be rented from shops near the beach. For those new to snorkeling, guided tours are sometimes available, offering a safer and more informative experience. While Hiriketiya may not have extensive coral reefs, the clear waters and aquatic life still make it a worthwhile location for snorkeling.
Yoga and Wellness
One of the more popular activities at Hiriketiya Beach is yoga. Several nearby wellness retreats offer a variety of yoga classes. These sessions are usually conducted in open areas, allowing you to enjoy the ocean view as you practice and cater to different preferences and skill levels.
Boat Tours
During the peak season, boat tours are commonly offered. These tours take you along the Hiriketiya coastline and often venture out to neighboring areas. It's an excellent way to appreciate the beauty of the coast from a different angle. Clear waters also provide a good opportunity for viewing marine life, adding an element of adventure to the tour. Most boat tours are guided, providing insightful information about the area's ecology and history.
Beach Walks
Hiriketiya Beach has a unique horseshoe shape that provides an intimate setting for visitors. A walk along the beach is an excellent way to enjoy this natural feature. The fine sand makes for a comfortable stroll, and you can often see interesting shells and rocks along the way. Early morning or late afternoon walks are particularly enjoyable due to the softer light and cooler temperatures.
Photography
The unique horseshoe shape of Hiriketiya Beach adds a captivating element to any photograph. With clear waters and picturesque surroundings, the beach serves as an ideal setting for various types of photography. From capturing the first rays of sunrise to surfing and other activities, there are plenty of opportunities for stunning photos.
Dining Experience
The beach area offers a modest but satisfying range of dining options. From seafood shacks to more formal restaurants, there's something for everyone. Fresh seafood is often a specialty, featuring locally caught fish prepared in both traditional Sri Lankan and international styles. Additionally, you'll find eateries serving popular Sri Lankan dishes like rice and curry, as well as international options like pasta and burgers.
How to Get There
Hiriketiya Beach is situated near Dickwella, in the Matara District of Sri Lanka's Southern Province. It lies about 194 km away from Colombo.
If you're setting out from Colombo, you can choose among several methods to reach Hiriketiya Beach. Your best option would be to go in a personal vehicle on the Southern Expressway, which would take close to 3 hours.
Buses are available, although they are less convenient. Taking a bus would not only require more time due to various stops, but you'll also likely need to transfer buses along the way.
Another option is the train, which you can take to the closest station in Dickwella, situated about 2 km from Hiriketiya Beach. Once you arrive in Dickwella, a short ride in a taxi or a tuk-tuk will easily get you to the beach.
Best Time to Visit
The ideal months to visit Hiriketiya Beach are from November to April. During this period, the weather is dry, and the sea conditions are most suitable for outdoor activities like surfing and swimming. The months from May to October are less favorable due to the monsoon season.
Tips and Advice
Swimming Safety: Always check sea conditions before entering, as lifeguards are not consistently present.
Sun Protection: Wear high-SPF sunscreen and reapply frequently to prevent sunburn.
Hydration: Keep a bottle of water handy to stay hydrated, especially during the hot months.
Accommodation Choices: Look for lodging options in advance to suit your budget, ranging from guesthouses to luxury resorts.
Food: Dining options vary widely, accommodating both budget travelers and those looking for a fine dining experience.
Transport: Plan your transport options in advance, whether you intend to use public transport, taxis, or car rentals.
Water Sports: If you're interested in activities like surfing, consider taking lessons or hiring equipment on-site.
Weather Forecast: Check the local weather before planning your activities, as conditions can change rapidly.
Local Cuisine: Remember to try some traditional Sri Lankan dishes available at beachside eateries.
Nearby Attractions
1. Dickwella Town: Just a short distance from Hiriketiya Beach, Dickwella offers a chance to experience local life and authentic Sri Lankan cuisine. Small shops selling handmade goods add to the village's charm.
2. Dickwella Beach: Located near Hiriketiya, Dickwella Beach has an expansive sandy area and calm waters. This makes it a preferred location for swimming and leisurely beach activities.
3. Hummanaya Blowhole: Situated about 30 minutes from Hiriketiya, the Hummanaya Blowhole is a unique natural phenomenon. The sea vent erupts, especially during high tide, providing a remarkable sight.
4. Silent Beach: A 40-minute drive from Hiriketiya takes you to Silent Beach, known for its quiet and serene atmosphere. This less crowded option is ideal for those looking to escape and enjoy a peaceful day by the ocean.
---
Whether you are a surfer looking for the next big wave or someone who just wants to relax by the sea, Hiriketiya has you covered. Its convenient location, variety of activities, and nearby attractions make it a must-visit when in Sri Lanka. So, if you are traveling in Southern Sri Lanka, make sure to stop by this unique, beautiful beach.